From the program of a small Christmas concert I played in for recovering patients of Moffit Cancer Center.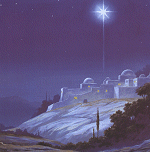 Somehow, not only for Christmas, But all the long year through, the joy that you give to others, is the joy that comes back to you. And the more you spend in blessing, the poor and lonely and sad, the more of your heart's possessing, returns to you glad.
-- John Greenleaf Whittier

The earth has grown old with its burden of care
But at Christmas it always is young,
The heart of the jewel burns lustrous and fair
And its soul full of music breaks the air,
When the song of angels is sung."
– Phillips Brooks
Schroeder: This is the music I've selected for the Christmas play.
[Schroeder plays Fur Elise]
Lucy Van Pelt: What kind of Christmas music is *that*?
Schroeder: Beethoven Christmas music.
Lucy Van Pelt: What has Beethoven got to do with Christmas? Everyone talks about how "great" Beethoven was. Beethoven wasn't so great.
[Schroeder stops playing]
Schroeder: What do you mean Beethoven wasn't so great?
Lucy Van Pelt: He never got his picture on bubblegum cards, did he? Have you ever seen his picture on a bubblegum card? Hmmm? How can you say someone is great who's never had his picture on bubblegum cards?
Schroeder: Good grief.
Grinch: Blast this Christmas music! It's joyful and triumphant.
"It is in the old Christmas carols, hymns, and traditions—those which date from the Middle Ages—that we find not only what makes Christmas poetic and soothing and stately, but first and foremost what makes Christmas exciting. The exciting quality of Christmas rests on an ancient and admitted paradox. It rests upon the paradox that the power and center of the whole universe may be found in some seemingly small matter, that the stars in their courses may move like a moving wheel around the neglected outhouse of an inn." G. K. Chesterton
"There is something about saying, 'We always do this,' which helps keep the years together. Time is such an elusive thing that if we keep on meaning to do something interesting, but never do it, year would follow year with no special thoughtfulness being expressed in making gifts, surprises, charming table settings, and familiar, favorite food. Tradition is a good gift intended to guard the best gifts." Edith Schaeffer (1916-)